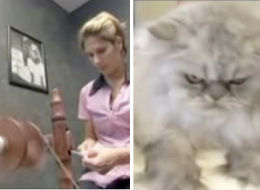 If you've got time to watch a video on shaving your cat to make a sweater, you have no frickin' excuse not to participate in my latest poll offering.
I've got a new poll over at my website. The first one I did on Why God Abandoned Sarah Palin was extremely well received. I hope you enjoy this little trip back down memory lane as well....
Flashback to the Sixties
http://thetimchannel.com/?p=342
Enjoy.
About Video On HuffPost
Read the Article at HuffingtonPost